After I finished my skills session on Sunday, my knee really hurt from when I dropped the bike doing the U-turn. I didn't sleep very well Sunday night because it ached so badly, even after some pain medicine and a rum and coke. Monday, luckily, was a holiday, and I nursed the knee, icing it and stretching it all day.
This morning, first day of school, it was much better - thank goodness because I had a training ride tonight!
First I went the the DMV to exchange my basic Learner's for a less restrictive Learner's (no supervisor needed). I felt like a somebody!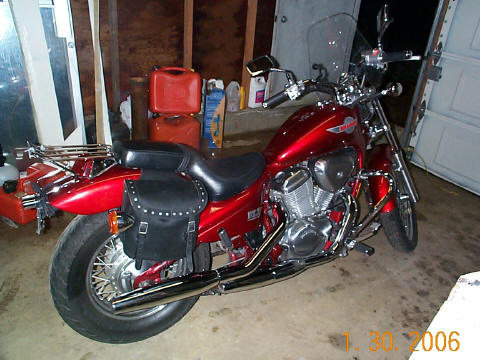 I showed up for the ride at 6 tonight, expecting to put the 250 through its paces. Dave, the instructor, has a bunch of bikes and he decided that the 250 was too small for me! He rolled out a 600 and said, "Try that on for size."
I was not expecting to ride such a big bike (for me, at least) but after a few stalls, I got the hang of it. There were two instructors and 3 students and we rode up and down hills, through lights, stopping a starting at intersections, on hills, and then cruised along a windy road up to Golden Ears Park where we went to Alouette Lake.
We had a break (both instructor chain smoked a couple cigarettes - do I have to learn to smoke and ride?) and then we went back down into town, practicing more intersections and lights.
It was a great training ride for me - I'm getting to use the clutch and gears more efficiently and am improving my starts from standing. I also am doing pretty well with my lane placement. I still have some work to do for proper down shift and for starting uphill but it is coming. Eventually I'll remember to shoulder check more often!
I will try to practice the lane positioning and shoulder checks with my Vespa this week. Next lesson is Sunday morning. Can't wait. Maybe I need to re-assess the kind of bike or scoot I'm going to get - - "Big Guy, Humongous Motorcycle"?
Nah....