Now that I've got my class 6, I'm in the enviable position of being able to look for a new scoot. I say enviable because I've always enjoyed searching for the right product, whether it's a TV, car, bicycle or scooter, and then trying to get a good price. Sometimes it's a matter of doing both at the same time.
What's especially gratifying right now is that I'm not in a hurry - at least I'm trying not to be in a hurry! I have my LX50 to get me around town and I'm thinking of waiting until spring to sell it as that would be a better time to sell. That gives me from now on to look as the real fair weather scootering weather is over and people selling now are probably more motivated (or desperate to sell!).
I've made the decision to go with a scooter. It was a blast learning on a motorcycle but it just isn't that practical, especially in crappy, rainy weather which is all too common in the lower mainland.
So what am I looking at?
First up is the Stella (new) which has a great retro feel and is a standard which appeals to me. I'd like to take it for a test drive (where I don't kill the battery and it can't start again like last time). At $4000 plus dealer charges, it's in my price range, especially if I get a decent price ($1500?) for my LX50. It could be service at the Stella dealer in Vancouver and I figure it would be easy to find parts. It's a 150 so it would be a lot faster than my LX50 but not quite fast enough for the freeway.
Second, a used Vespa. I've been looking at Craigslist - both here and in the states (Seattle, Portland). There are way more choices in Portland than here but I don't know if I want to deal with the hassles of getting it through the border. If I got something used, it would probably be either a 200 or 250 GTS. It might save me a little money as a 2005 GTS200 (pictured above) in Coquitlam at a dealer was $3500 and a guy in Kelowna (pictured below) is selling a 2007 GTS 250 for a paltry $2800 - although I don't know how I'd ride it down the Coquihalla highway which is infamous for snow and ice this time of year.
Third, a new Vespa. It would probably have to be an LX150 which, like the Stella, has potential issues if I want to go on the freeway. I'd still have to get a demo or older stock as a new one, at $5000 plus dealer fees, is really stretching it. And I don't like the S150 because I think the rectangular like is ugly.
Can't believe I'm getting this picky! As to the LX150, yes, there is the warranty and no kms on the engine but that is a hefty price....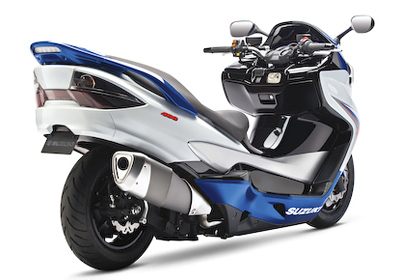 Finally, perhaps I'll stray right away from the Vespa/Stella look and get something like a Burgman. Mind you, they are pretty pricey too so I'd be looking for a used one.
Any suggestions from out there in the blogosphere? Feedback would be greatly appreciated....