Today was another one of those glorious days.
I had to go into Vancouver and decided to scoot in.
There are certain sections to a trip to Vancouver from Maple Ridge so I thought I'd share what the different phases are like. By the way, my apologies for the photos acquired from other sites - I left my camera at my sister's house on Canadian Thanksgiving....
Maple RIdge - Pitt Meadows
This part of the trip is on the Lougheed Highway and is OK. It's mostly flat so I can get going at a pretty good clip but I've done it a zillion times before so it can get a bit humdrum. Going over the Pitt River bridge is the best part simply because I like going over bridges!
Port Coquitlam - Coquitlam - Port Moody
The next part I don't go on as frequently as the first part of my trip. The road is fairly flat but there are lots of different stores, lights to stop at, lane changes, and more than a couple coffee shops to stop at when I get too cold. Luckily it was a fairly warm and sunny day today so I zipped right through this part of my trip. I sensibly wore my jeans and had a couple layers under my gortex jacket.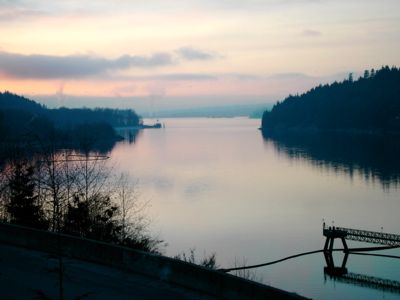 Barnet Highway
I've blogged about this highway before. Since I can't go on the freeway (not that I ever would want to with cars whizzing by at 100 kmh), this is my best route into the city. It is a very pretty ride, with lots of trees and Burrard Inlet to my right as I ride into the big city. There's two lanes each way and one of the lanes is a commuter lane where motorcycles are free to go on. There's also usually a fair number of cyclists on the route (momentary guilt) and I sometimes give them a polite 'meep' of encouragement when I go past. The only downside of this part, which connects Port Moody and Burnaby, is that it is mostly in shade because of all the trees and so can be quite cold.
Hastings Burnaby
Although Hastings Street has a bad name in the news, the part that goes through the city of Burnaby which is adjacent to Vancouver is quite nice. Two neighbourhoods, Capital Hill and The Heights, are particularly nice and have come back from bad reputations as a result of the residents turning things around. I really like The Heights as there are lots of ethnic shops and restaurants and, most importantly, coffee shops to stop at for a warming latté!
East Hastings
Once I enter Vancouver, Hastings is still not such a bad place. The Pacific National Exhibition is on the right and quiet residential areas fill out the rest. As I ride closer to the centre of the city, however, the street becomes more desolate and depressing. The Downtown Eastside is centred on this area with homeless people, drug users, and a host of other social ills. Still, I don't mind riding through this area - people don't antagonize me and it's probably a good idea to be aware of what's happening in this part of the city.
West Hastings
As I ride past the Church of Scientology, sort of a marker between east and west, Hastings Street changes to swank, stylish buildings and trendy, upscale malls such as the Sinclair Centre. It amazes me that in just a few blocks the cityscape changes from homeless people to high end designer stores. I ride on, to the edge of Vancouver, sunshine shining down on me as I scoot towards the North Shore.
West Vancouver
After scooting through the causeway of Stanley Park, I rode onto the Lions' Gate Bridge for the first time on my Vespa. It was incredible! The scenery was beautiful and I felt so high up! I've been over the bridge thousands of time before in a car but never on a scooter. It was amazing. I rode onto West Vancouver into the Village at Park Royal to my destination, coffee with my wife at Caffe Artigianno.
And, wonderful as the ride was, after I had my latté, I smiled as I contemplated the ride home....